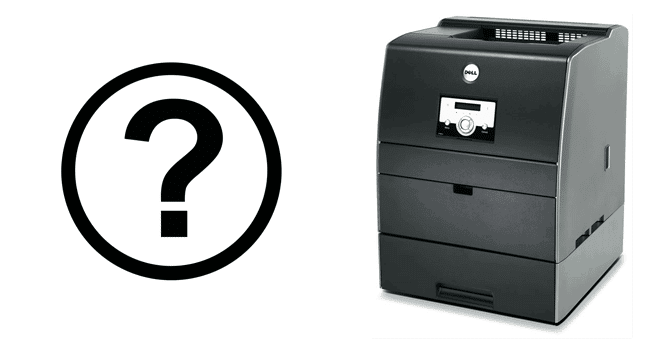 Figured I would post this up, maybe it will help others as I didnt really find anything that helped me. We have a Dell 3100cn which keeps saying "Close Front Door" I've made sure nothing was blocking the levers, used a screw driver to push them both in, still no luck. Restart, unplugged, disconnected power multiple times. Removed all toners, check all doors front, back, and top with no luck. Figured it was time to call dell.
According to the tech the machine board and control unit are dead and they are no longer available. Searching online I have found some places selling these parts, used of course. If work will let me, I'll try and get these parts ordered and see if this is truly the issue. Figured $40-$50 for parts to try and fix this printer would be worth a shot.
Anyways below is my chat with the dell rep.
09/27/2012 10:15:53AM
Session Started with Agent (OKC Imaging Teresa Shirley)
09/27/2012 10:15:58AM
Agent (OKC Imaging Teresa Shirley): "Thank you for contacting Dell Printer Support. My name is Teresa. How are you today?"
09/27/2012 10:16:10AM
Me: "Great thanks"
09/27/2012 10:16:31AM
Agent (OKC Imaging Teresa Shirley): "Good to hear how can I help you today Cory?"
09/27/2012 10:17:06AM
Me: "I have this printer that keeps saying close front door. I've closed it over and over, cleaned to make sure nothing was blocking it and I keep getting the same message."
09/27/2012 10:17:27AM
Me: "I've also restarted multiple times with no luck"
09/27/2012 10:18:21AM
Agent (OKC Imaging Teresa Shirley): "I would be happy to help you with that close door error and I would like to confirm the service tag we are working With today is 5CW8D41 it is a 3100CN to make sure we have your most up to date information, I am showing your email as ***************."
 what is a good phone number I can reach you at if we get disconnected?
09/27/2012 10:18:48AM
Me: "Yep that is correct ***-***-****"
09/27/2012 10:19:20AM
Agent (OKC Imaging Teresa Shirley): "Thank you CoryI would also like you to know while I have the tag up that your warranty expired on 8-1-2008 Out of warranty means there is normally a 59.00 fee for troubleshooting not including parts and labor. However I waive this fee for your company bu"
t parts and labor will still be an out of pocket expense
09/27/2012 10:20:12AM
Me: "Ok thanks!"
09/27/2012 10:20:47AM
Agent (OKC Imaging Teresa Shirley): "You are welcome"
09/27/2012 10:21:21AM
Agent (OKC Imaging Teresa Shirley): "it sounds like a sensor may be out on the front door when you hold the door closed with your hand does the error clear?"
09/27/2012 10:22:10AM
Me: "Tried that also still no luck."
09/27/2012 10:23:52AM
Agent (OKC Imaging Teresa Shirley): "Hum we may be looking at something a little more serious then let me go take a look at your model printer in the lab and see if there could be something else causing this because at this point we may be talking about a system board issue one moment please"
09/27/2012 10:24:13AM
Agent (OKC Imaging Teresa Shirley): "give me 3-5 mins to run to the lab and back please"
09/27/2012 10:24:13AM
Me: "ok"
09/27/2012 10:29:42AM
Agent (OKC Imaging Teresa Shirley): "Thank you for holding Cory looks like it would be the sensor on the door is damaged are you with the printer now?"
09/27/2012 10:30:22AM
Me: "yes"
09/27/2012 10:31:02AM
Agent (OKC Imaging Teresa Shirley): "When you open the door facing the printer there is a open area on the left hand side looks like a small cute with a small blue arrow pointing into the printer do you see that?"
09/27/2012 10:31:21AM
Me: "yep"
09/27/2012 10:31:37AM
Me: "I've press both before at the same time with no luck"
09/27/2012 10:32:02AM
Agent (OKC Imaging Teresa Shirley): "can you get a small light down in there to see if there is a spring in there and a small lever that the other side would be pushing in?"
09/27/2012 10:32:27AM
Me: "ok one sec"
09/27/2012 10:33:37AM
Me: "yep the spring is still connected and the lever works fine"
09/27/2012 10:34:30AM
Agent (OKC Imaging Teresa Shirley): "We are looking at the system board and Machine Control Unit then and we do not have either of these parts available for your model printer it is no longer manufactured"
09/27/2012 10:35:33AM
Me: "Ahh bummer"
09/27/2012 10:36:13AM
Me: "Alright thanks for your help."
09/27/2012 10:36:20AM
Agent (OKC Imaging Teresa Shirley): "I know I wish I could do more but at this age the technical to fix the printer plus parts would likely be more than the printer new"
09/27/2012 10:36:39AM
Agent (OKC Imaging Teresa Shirley): "You are welcome thank you for working with me on the problem today Cory"
09/27/2012 10:36:47AM
Me: "Have a good day!"
09/27/2012 10:37:01AM
Session Ended

If you require further assistance, please visit us at support.dell.com